>
Home
>
Ministries
Personal Ministries
Leader: Dr. Jasmin Wildman,PhD
Weekly Outreach Programs
Online Bible Study Correspondence using our Discover Bible Guides
These Bible study guides are simple, easy to use, and answer some of life's challenging questions, such as:
Why does God permit suffering and dying?
What is the secret to a happy life?
Is there hope for our chaotic world?
Sign up to study and review Bible Truths with a designated Bible Teacher. Visit The Hope Fellowship Discovery Bible School at 
Nursing Homes Visitations
(Suspended Until Further Notice Due To Covid-19 Visitation Restrictions)
Members spends an hour with our senior citizens at the following Nursing Home, ministering to the residents via songs, poems, story telling, beside visits, prayer, etc.
1st Sabbath
Spring Village Home 329 Brown Street East Stroudsburg, PA 18301   
From 3:00 P.M. -  4:00 P.M.
2nd Sabbath
White Stone Care Center
870 White Stone Corner Stroudsburg, PA
From 3:00 P.M. -  4:00 P.M.
3rd Sabbath
Pleasant Valley Manor 4227 Manor Drive Stroudsburg, PA 18360
From 3:00 P.M. -  4:00 P.M.
4th Sabbath
Brookmont Health Care
510 Brookmont Drive Effort, PA 18330
From 3:30 P.M.- 4:30 P.M.
Weekly Motivational
Upcoming Personal Ministries Events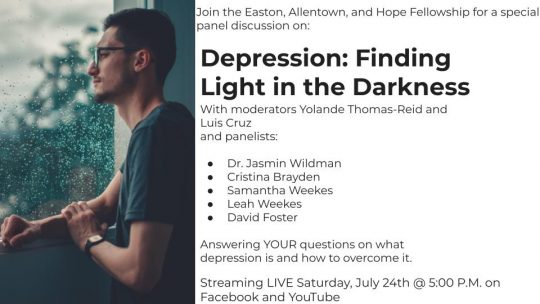 https://youtube.com/channel/UCMmOW3G04Q0DAdv6OksJKxw
http://eastonsda.com/
https://globalhouseofhope.org/global-house-of-hope-tv-1