Upcoming Events
Click this link to see more details of Pennsylvania Conference Events.  Some events require registration.
July
July 2-9, 2023
TWEEN CAMP
AGES 12-14
July 9-16, 2023
TEEN CAMP
AGES 14-16
https://laurellakesummercamp.com/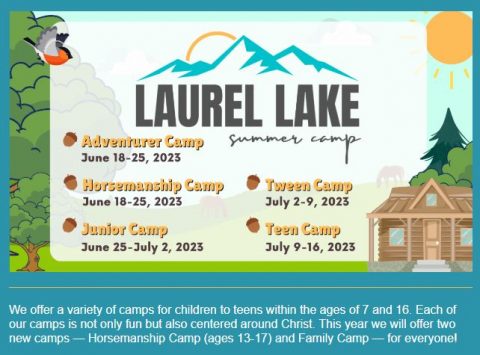 July 16, 2023
Lay-Bible Worker Training 
Register asap at http://paconference.org/lay-training/
July 16-21, 2023

Mission & Evangelism Center
2359 Mountain Rd
Hamburg, PA
Join us for a life-transforming training designed to equip you to use your gifts and talents to impact the lives of your family, friends, neighbors, and co-workers with the gospel of Jesus Christ.
Make a difference in someone's life!
July 20-23
Laurel Lake Camp Meeting 
Join us beginning Thursday, July 20, for family camp:
Horseback riding
Go-karts
The Pool
Lake Activities
Bonfires
And more!
Take an mini-vacation with your family. Fun activities with the added bonus of worship and an emphasis on connecting with God
Laurel Lake Camp Meeting begins Friday evening, July 21, as Dr. Eric Walsh joins us for powerful worship sessions as we explore what it means to live with "Fearless Faith."
A physician and health care administrator, Walsh is a graduate of Oakwood University, the University of Miami School of Medicine, and the Loma Linda University School of Public Health where he received his masters and doctorate in public health.
Walsh is a public health specialist who has worked at local health departments and with national organizations to improve the health of all Americans and to especially reverse the health disparities that plague some communities. He has served Presidents George W Bush and Barak Obama as an advisor on HIV/AIDS.
On the spiritual front, Dr. Walsh has served as an associate pastor at several churches and gets no greater joy than bringing souls to Christ. His wife, Jacqueline, is his partner in ministry and his best friend.
Bring your family and spend a long weekend enjoying camp activities!
15% early bird discount on registration through June 21, 2023!
August
August 5, 2023 from 1-5PM
White Water Rafting