April 17,2020 - May 16, 2020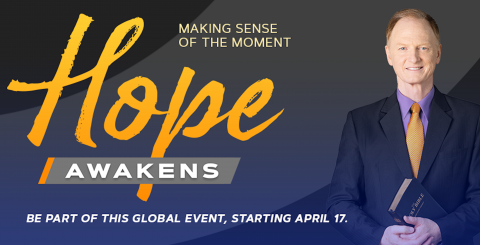 ANCIENT PREDICTIONS
ANCIENT PREDICTIONS
SPEAK TO THE FUTURE OF THE
WORLD. TODAY WE SEE CHAOS, 
BUT WHAT ABOUT TOMORROW?
Are you looking for answers?
​Where are we in earth's history? 
Are there prophetic messages meant for people today?
Why do so many think we are witnessing the prophecies of Revelation?
​Is America talked about in the Bible?
It Is Written Launches Virtual Online Event, Hope Awakens It Is Written, known for the tenth longest-running television series by the same name, is conducting a virtual, online event starting April 17 entitled Hope Awakens. Livestreamed from Collegedale, Tennessee, in English, Spanish, and American Sign Language, this event will share hope especially needed in this time of uncertainty. Presented by world-wide speaker and It Is Written host, Pastor John Bradshaw, Hope Awakens will present the prophetic message of the Bible while speaking to hearts burdened by anxiety, fear, and uncertainty. The interactive online meetings begin April 17 at 7:00 pm EDT with additional viewing opportunities for other time zones.
Individuals who register will be directed to a mobile app and online viewing platform. Individuals are encouraged to sign up for the series at www.hopeawakens.com
Full Schedule
English Meetings start on April 17 and end May 16.
Every evening at 7 pm, 10 pm, and 1 am on Friday, Saturday, Tuesday, and Wednesday. (There will be no evening meeting on May 16.)
On Sabbath May 2, 9, and 16 there will be an 11 am, 2 pm, and 5 pm meeting.
Spanish Meetings start on May 9 and end May 20. Every evening at 7 pm and 10 pm. On Sabbath May 16 at 11 am. *All times are EDT